Game Modes/Custom is a game mode in BATTLEGROUNDS.
Summary
[
]
What are custom games?
Custom games are dedicated servers that players can randomly start up at given time. Partners whatever BR match they want to create ranging from a BR Zombie match or any custom preset they want ranging from snipers only to melee only. They have the ability to control every setting in a match ranging from when air drops come, how fast the circles are, if to enable/disable Red zones and more.
As of PC 1.0 Update #18 [1], PUBG Corp gave the ability, not just Partners now, the ability to create a custom lobby.
Custom games range from; Normal mode, Zombies mode, War mode and eSports mode.

Normal mode: Classic battle royale rules—be the last person (or team) standing.
Zombie mode: Play as either humans or zombies. Only one faction can win.
War mode: Team deathmatch with respawns. The team with the most points (kills and knocks) wins.
eSports mode: PGI 2018 eSports rule will be applied.
Related sub-wikis
[
]
Info
[
]
What can you edit when creating a custom lobby?
After creating a lobby, the settings can be adjusted using the options in the BASIC, RULES, and SPAWNS menus.
Settings

BASIC: Set session name, game mode, password, server region, map, weather, etc.
RULES: Set number of players, team size, gameplay, Blue Zone settings.
SPAWN: Set the types of weapons available and spawn rates.
Things to keep in mind when creating custom matches:
The number of total created custom games at once are limited.
At least 10 players are required to start the match.
You can keep the game in a waiting room for up to two hours.
Custom game spectating feature has been disabled temporarily.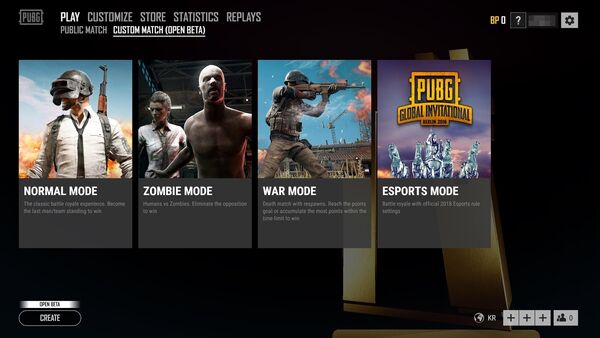 References
[
]