Miramar
Details

Developed by:

Seoul (KR)
Data

Location:

Mexico

Theme:

Desert

Terrain:

Dirt, Urban, Sea

Game modes:

All

Servers:

Ranked

Platforms:

PC, Xbox One, PS4 & Mobile

Type of combat:

Long range
A city-centric map
Miramar is the 2nd playable map for BATTLEGROUNDS. Initially slated to be a 4x4 km map,[1] Miramar is a 8x8km city-centric map with an open desert plain and rural areas.
Development on this map began in July 2017, PUBG Corp used the official release update (1.0 update) to test Miramar in 3 rounds of testing phases. It later became available later that year on the 12th of December for PC (launch of 1.0) and 24th of May, 2018 for Xbox One [2].
Summary
Miramar offers unique terrain and dense urban areas. With an island to the south east home to a prison and smaller villages, the entire area is cut off from the west and north-east by enormous canyons and mountains, with a looming metal wall to the north keeping outsiders out, and players in. Miramar will create a new Battle Royale experience where the old strategies from Erangel may no longer work and new tactics are required.
Update history
Update #45 (Season 8 - Update 8.3) - vN/A
Miramar haystacks are now destructible (much like their Erangel counterparts).
'Update #36 (Season 5 - Update 5.3) - vN/A'
Loot Balance Changes

22% increase to overall loot spawned.
Additional 22% increase to total number of ARs spawned.

This means the total number of ARs spawned on Miramar is now 44% higher than before.
Update #34 (Season 5 - Update 5.1)
Miramar Update

A LA Muerte Vamos Track.

A race track has been added, which was the venue for A La Muerte Vamos in Miramar.
You can now find newly added objects like ramps, loops, jumps and signboards across Miramar.

New Gold Mirado.

A Gold Mirado has been added to Miramar, which can only be found parked at the garage in Hacienda del Patron.
Some terrain in Hacienda del Patron has been adjusted to let you ride the Gold Mirado out safely.
Only one Gold Mirado spawns each match.

Spring-cleaned Miramar.

Removed some small objects and trash in and around buildings to reduce clutter and make movement easier when looting.

Improved Miramar item spawn balance.

The spawn rates of weapons and scopes effective at long-range have been increased to better suit the long-range engagements commonly had across Miramar.

AR - 12% increase
DMR - 29% increase
SR - 42% increase
Win94 - 30% increase
Scopes - 18% increase

Pistol spawn rate reduced by 31%.
The spawn rates of helmets, bags and vests has been increased slightly.
Dynamic weather has been added to Miramar.

Miramar: Overcast, Sunset

Overcast setting includes dynamic weather, and includes rain, fog, etc. during the game.

Miramar has received some improvements.

More dirt roads have been added for better vehicle effectiveness.
Certain high-slope sections of roads have been lowered to enhance vehicle effectiveness.
We've made more improvements to Miramar:

We've increased the size of the oasis and added more buildings nearby.
We've added extra farming points by placing small building sets near various cities and towns.
We've reduced the number of buildings in some city areas to cut down on excessive building density.
We've removed some excessive cover points (rocks, drums, boxes) inside various cities and towns.
We've added more objects like trees and rocks throughout the map to provide some additional options for cover in wide-open spaces.
The interiors of certain buildings have been simplified.
Improvements were made mainly on Northern part (Northeast, Northwest) of the Miramar to make it a more appealing area.

The Oasis can now be found in the north, and Alcantara village has been added to the northwest.
We've added more roads, off-road paths, and car spawning positions to facilitate easy travel into and out of the area.
Higher-tier loot is now more likely to spawn in specific areas of the north of Miramar.

We've optimized the GPU performance of buildings seen from mid-range (all maps).
Miramar improvements.

Added more buildings and cover across the map to improve the engagement experience.
Added more off-road routes for easier vehicle navigation.
Upgraded the item spawn level of certain areas for loot balancing (some areas will spawn better loot).
Added more objects around La Bendita on Miramar to increase the amount of cover.
Official release PC 1.0 Update - v3.5.5.6
Added a new map - Miramar.

Miramar supports 2 weather types:
Miramar builds on and modifies the core Battle Royale experience by providing varied visuals and gameplay:

Vaulting & Climbing action will be even more useful when crossing the Miramar terrain.
Background
Miramar is a city-centric map based in Mexico.
Map
Graphical map -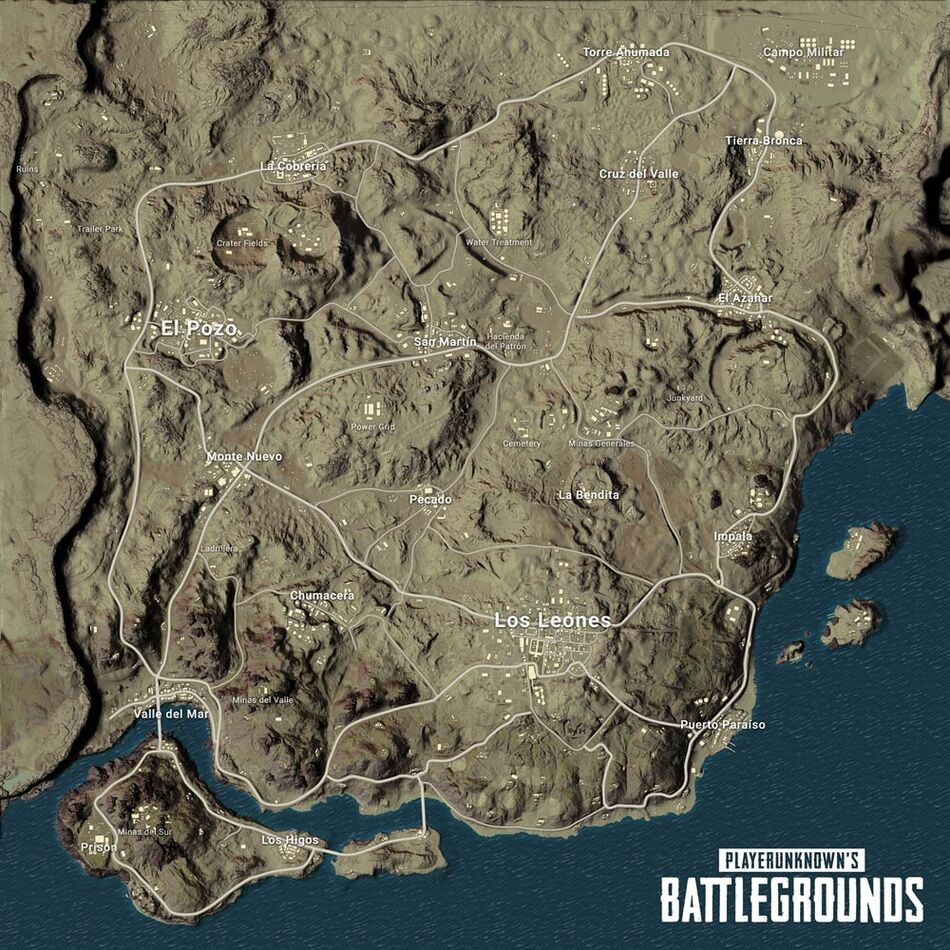 Major cities
Minor cities
Major landmarks
Vehicles
Miramar features the following vehicles:
Weapons
Miramar features the following weapons:
Weather
Dynamic weather? Yes
Map Miramar has this type of weather;
Clear (w/o clouds)
Sunrise
Rain
Fog
Media
Gallery
Easter Eggs
"I hate school." Easter Egg is a reference to the school in Erangel.

Alpha/Beta map of development of Miramar. Map spawns in 2 locations.
Video Gallery
WIP
WIP previews/concept art of Miramar.
Downtown (Gamescom 2017 Keynote [3])

File was datamined from the September Update [4]

File was datamined from the Test Server of update 1.0 [6]

File was datamined from the Test Server of update 1.0 #2 (Week 2) [7]
References