Telnyashka T-shirt
Telnyashka T-shirt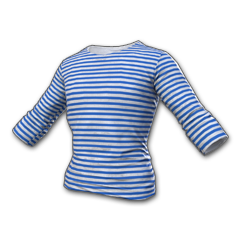 The Telnyashka T-shirt (aka Mail.ru T-shirt) is a limited edition shirt in BATTLEGROUNDS for those who purchased PUBG on the pubg.mail.ru website priced around 750 RUB (13.06 USD/11.05 EUR) and played it at least 2 days on their launcher.
A custom t-shirt from the Russian gaming platform Mail.ru. It called "Telnyashka" an iconic uniform garment worn by the Russian Navy, Airborne Troops (VDV) and Naval Infantry.
Telnyashka T-shirt became marketable on 9/12/18 for the PC #21 update. [1]
Q: How do I get access to the Blue t-shirt? | A: You could have only get this shirt via a special code sent to your e-mail on mail.ru domain after purchasing mail.ru version and 2 days of playing it оn their launcher. You can buy it from the Steam Marketplace.
Q: How do I get access to the Green t-shirt? | A: You could have only got this shirt who bought the game on Mail.ru before January 8, 2018.
Q: Was the Blue t-shirt a special code only? | A: Yes.
Q: Is it necessary to enter the game through the GameCenter (their launcher)? | A: Yes, this is a mandatory condition.
Q: How limited it is? | A: One month (October, 16 - November, 16) and only 40,000 items.
Q: I got a code! Where can I activate it? | A: In any version of the game.